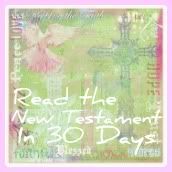 Hosted by
For the love of 4
and
Finding joy in Vegas
Starting January 1st
come Join us for a insightful 30 day challenge.
We challenge you to pick up your bible or book of
New Testament and read.
This challenge breaks the New Testament
down into 30 days making it easy to
read each part.
Grab the button and join in. Each day will be listed here.
Blog about it and share it with you friends.
Day 1 Matthew 1-9
Day 2 Matthew 10-15
Day 3 Matthew 16-22
Day 4 Matthew 23-28
Day 5 Mark 1-8
Day 6 Mark 9-16
Day 7 Luke 1-6
Day 8 Luke 7-11
Day 9 Luke 12-18
Day 10 Luke 19-24
Day 11 John 1-7
Day 12 John 8-13
Day 13 John 14-22
Day 14 Acts 1-7
Day 15 Acts 8-14
Day 16 Acts 15-21
Day 17 Acts 22-28
Day 18 Romans 1-8
Day 19 Romans 9-16
Day 20 1Corinthians 1-9
Day 21 1Corinthians 10-16
Day 22 2Corinthians 1-13
Day 23 Galatians - Ephesians
Day 24 Philippians - 2Thessalonians
Day 25 1Timothy - Philemon
Day 26 Hebrews
Day 27 James - 2Peter
Day 28 1John - 3John
Day 29 Revelations 1-11
Day 30 Revelations 12-22