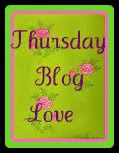 thanks to Meghan Tucker @
so i was reading through blogs and came across something that made me think. i want to do my part in supporting moms blogs out there. i know i tell you about a blog i like every week and alot of you check those out. so why not show love for all the blogs i enjoy or that have a great post i think you should read. so every thursday i will put a link widget up for everyone to link there blogs. i hope that you will check some of them out and say a little hello.this will all me starting next thursday so i hope to see you all drop by.
so if you know of a blog that i have not mentioned then link up. i look forward to sharing the love and seeing what you all love to read as well.
you may ask how will you know if you are one of the blogger that i love to read, well i borrowed a photo from
i felt that this photo had something to do with my train of thought. so i will leave a comment for you so you know that i love what you do.